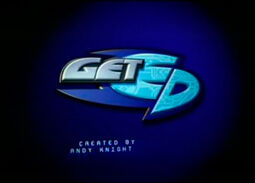 Get Ed is an American computer-animated television series which debuted in 2005 that aired as a part of the Jetix programming block on the United States cable television network Toon Disney until the channel closed in 2009, and also used to run on the ABC Family channel before they switched over to a non-animated format. As of 2009, re-runs air on Toon Disney's successor, Disney XD. It was Jetix's second original show. It was created by Andy Knight.
In the series, Ed is an 'electro-genetically' enhanced teen who works for Dojo Delivery, a courier service, in the futuristic Progress City. Ed uses his cyber-sleuthing skills to thwart identity theft and other information-based crimes. He and his courier pals Burn, Deets, Loogie (accompanied by his puppet Dr. Pinch), and Fizz, along with their friend and mentor Ol' Skool, must battle the ultimate evil – Bedlam, an industrialist who has taken over a significant portion of Progress City, by means of stealing from, datamining, or outright destroying his competitors.
Cancellation
Edit
Despite receiving stellar ratings and positive reviews from critics and viewers alike, Get Ed was not renewed for a second season, leaving the series on an unresolved cliffhanger.